About our new focus
Ceol Sean was founded on the belief that there is a vast body of&nbsp 'lost or forgotten' pipe music from the first half of the twentieth century and before that would benefit the piping community if only it could be made easily available. In 2000, we began selling out-of-print collections on CD as a way of making this music available. In 2011, we shifted our focus from a being commercial vendor of pipe tunes to a being "free-of-charge" pipe music resource available to everyone. As we look to the future, our priority is to make pipe music freely available via the Internet and to move the commercial aspect of Ceol Sean to the background.
About our website
We developed our website on our own, so we'll be able to make changes and updates fairly easily. Please send us an email if you have any comments, suggestions, or proposed additions. We have plans to expand the site in the future, so any ideas or sources that you can share with us will be most welcome.
I owe my wife Sue a big thanks for many of the photos that appear on the site (like the one at the top of this page). She took those photos during our June 2010 trip to Scotland.
And for those interested in trivia, our site currently has over 7,000 published music and manuscript settings connected by over 20,000 links.
About the Ceol Sean "neighborhood"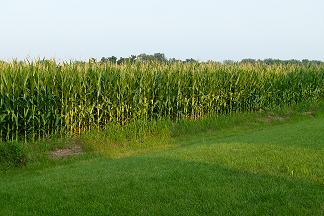 Back porch view at Ceol Sean
With over 2,000 clients worldwide, we thought it would be fun to share a glimpse of the Springfield, IL neighborhood where Ceol Sean is located. Here's what things look like from our back porch. As you can see, we are right next to a typical Midwest U.S. cornfield!! (Sue took this photo in July 2011 when the corn stalks were over six feet high.)
But look closely and notice what you DON'T see......There are no "Green Hills". There are no "Mist Covered Mountains"... just corn and soybean fields as far as the eye can see.
About Sue and me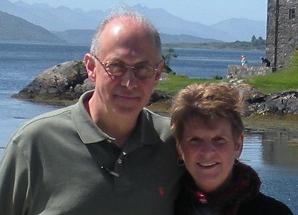 Sue and Steve Scaife
For over 20 years, my wife Sue has been a big supporter of my piping ventures, and for that, I am most grateful. During the time Ceol Sean has been in operation, she's given me the freedom to commit the time and effort necessary to develop and run it. Sue is retired from the State of Illinois as a personnel management executive. More importantly though, Sue is an award-winning pastel artist and art instructor. She has created a number of paintings from scenes of our 2010 trip to Scotland, and I plan to add some of those to the site in the near future.
For my part, I have been piping since 1992, and took my initial instruction with St. Andrew's Pipes and Drums of Central Illinois. St. Andrew's Pipes and Drums is the only band in which I've ever been a member, and May of 2016 marked my 24th anniversary with St. Andrew's. I'm still working, currently as a database manager and programmer with the Center for Clinical Research at the Southern Illinois University School of Medicine. I'm also active in Tyrian Masonic Lodge #333. I'm also active in the Scottish Rite Masons of the Valley of Springfield, Illinois and received my 33rd degree in 2015.
Steve Scaife